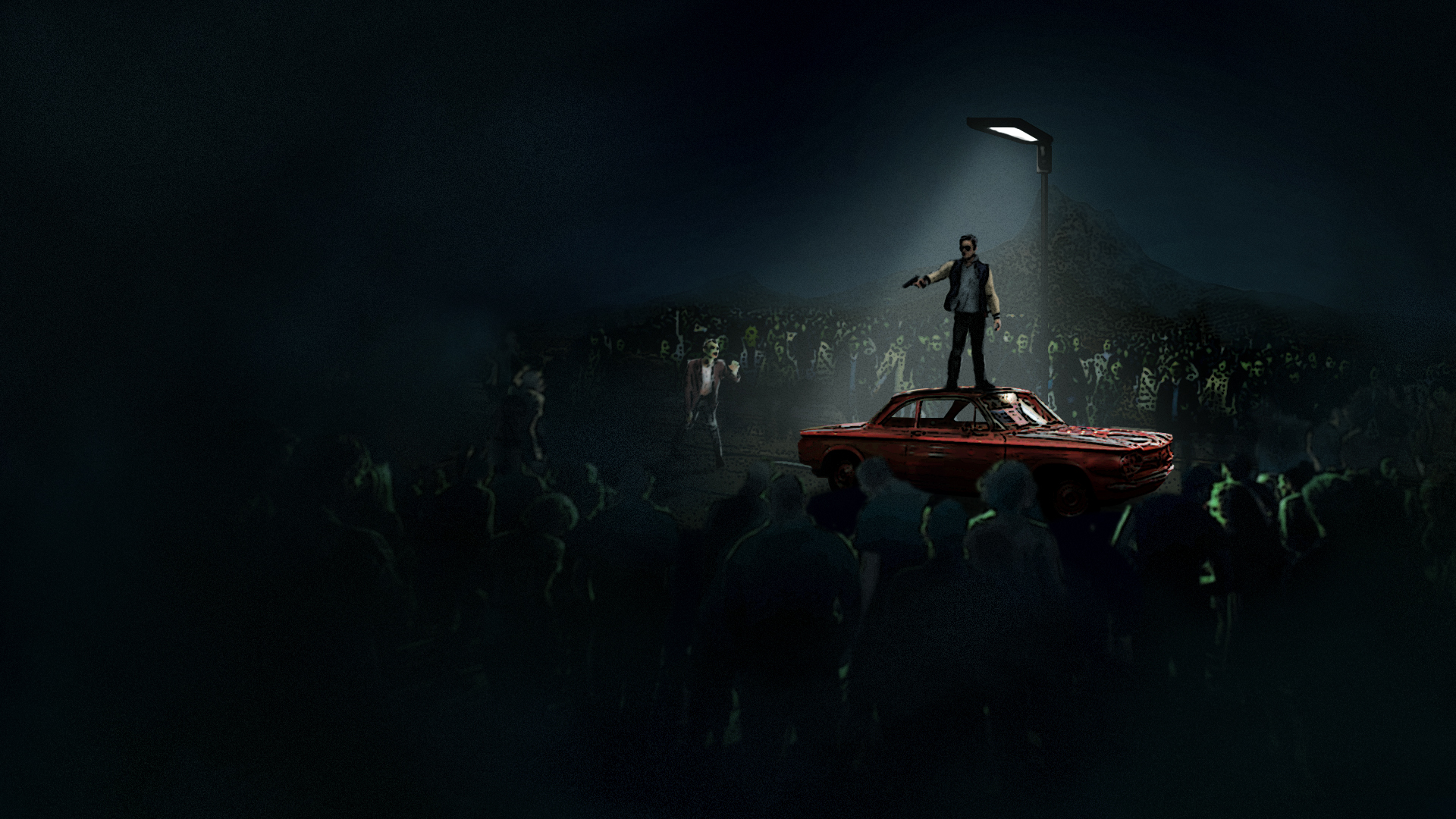 Day Off
A downloadable day off for Windows
Hello!

This is my first game project and it's still in development.
In this game, I wanted to recreate the atmosphere of horror and road movies of the 80s.
The game genre is a 2D top-down shooter.
Here you will find masses of zombies, physics, quests, a lot of action, stealth, cars and various references.
It is not a regular 2D top-down shooter - all objects in game world are physical. It means you can use enivronment to get advantages - use bottles as throwing weapon, hide behind obstacles from zombies, or just block entries to avoid a battle.
Every npc can hear and see. Loud sound will alert the zombie - be silent and hidden, sneak up behind and kill him by knife. Or just kill them all by AK-74 if you are skilled enough.
The character will have to fight the infected with a large arsenal, including a flamethrower.
Assets are hand-drawn specifically for this game.
The game consists of several levels, which are combined into a single complete story (there are only four levels at the moment, but there will be many more).
I hope you enjoy the project!
Feel free to share your feedback

Demo is free but i will very appreciate your support
Control hint:
MOUSE - aim
W A S D - movement
L SHIFT - stheals
LEFT MOUSE BUTTON - attack or throwing of objects
RIGHT MOUSE BUTTON - laser aim
MOUSE WHEEL - zoom
TAB - inventory
Q - AID kit
F - flashlight
SPACE - kick
E - different interactions
ENTER - skip replica in kat scenes
Download
Click download now to get access to the following files:
Comments
Log in with itch.io to leave a comment.
is this game compatible for low end pc with 128mb vram?
Can please anyone tell me how to fix this issue?

Once I tried to run the game, I got an error saying "Failed to launch JMV". Any help would be appreciated. Thanks!

Could you try to find the file like hs_err_pidXXXXX.log in the game folder?
Yeah I went to every folder but couldn't find it. What does that file do?
really good game keep up the good work:)
A great game made with the libGDX framework. Also encouraged me to continue working with it. Played for a while and it's really good. I will spend more time on this game.

Hi boys, girls and attack helicopters!

This is the best game i've ever played.
Jetzack you are the most beautifull person in the game-dev world :)

Hey there! I played through your game and did a speedrun of it :) Really enjoyed it, cant wait to see more.

Dude, cool atmosphere! What about Linux support?